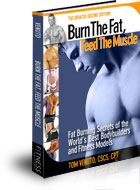 Q: What exactly are the contents of the book? Burn the Fat, Feed the Muscle has become known as "the bible of fat loss." Now in a new, 2nd edition (Burn the Fat 2.0), it is the most complete, detailed, precise, by-the-numbers guide to fat loss ever created. It covers all 4 major elements of fat loss: 1) nutrition, 2) weight training, 3) cardio training 4) mental training (motivation and goal-setting). The majority of the program focuses on nutrition because what you eat is the #1 success factor for fastest fat loss.
Q: How quickly will I lose weight? This is NOT a weight loss program, it's a fat loss program. You can expect to lose about 1-2 pounds of FAT per week, without losing muscle. You'll know it's pure fat because you'll learn how to test and track your body fat level. If you're very heavy, then 1% of your body weight per week (2.5 to 3 lbs if you're 250 to 300 lbs) is safe and realistic (larger and fatter individuals are more likely to lose faster than smaller and leaner individuals). Extra weight loss is common the first week or two, but that's usually water weight. Faster fat loss is possible but not likely for most people.
Q: Is this a low carb diet? It's better than low carb - it's "carb customized." You'll learn to identify your body type and see whether you're carb tolerant or intolerant. Then you personalize your carb intake to suit your goals and your metabolism. If you want to get "6-pack abs" or "competition" lean, you can use the advanced "carb cycling method, the easiest, most effective and most powerful way to do a low carb diet (bodybuilding and figure competitors have been using this tactic for years).
Q: I'm not a bodybuilder - will your program still work for me? Yes. Burn the Fat was developed BY a bodybuilder, but it's not just FOR bodybuilders. Even if you have no interest in gaining muscle size or getting onstage to compete, ANYONE can learn fat burning tricks from bodybuilders and easily apply them, whether you have 100 pounds to lose or just the last 10. 90% of my clients and customers are NOT bodybuilders.
Q: Tom, what are your credentials? How do I know you know what you're talking about? You can see my full bio on the About Tom Venuto Page
Q: Will the program work for women? Yes. Our customers used to be about 45% women, 55% men, now it's the reverse - more women use this program today than men. Women have different needs and eating like men is the biggest mistake women make. BURN THE FAT gives you the exact calculations for the female metabolism. The workout program was developed to work equally well for men and women. For more information on how this works for women, including case studies and success stories, visit the Burn the Fat For Women Page. (Men: CLICK HERE)
Q: Do I have to join a gym or buy any equipment? No you don't have to join a gym. You can work out at home if you prefer. All you need is the most basic weight training equipment such as barbells and dumbbells. An adjustable bench, squat rack and chin up bar are also great additions for a home gym set up. If you want to, you could just follow the nutrition plan in Burn the Fat, Feed the Muscle and do your own workout, but the program works best with nutrition combined with some form of resistance training and cardio training.
Q: Am I too old for this program? You're never too old to improve your health and fitness. As you can see from the success stories on the home page, we have men in their 50's, 60's and even beyond who have achieved great results on BFFM. Get clearance from your doctor before changing your diet or starting any exercise program.
Q: I can't eat wheat or any products with gluten. Can I still follow the program? Yes, gluten intolerance is common. You can easily work around it. This program is very flexible so you can adapt it for most special dietary needs (this program is NOT designed for medical purposes however - it's a fat loss program).
Q: I'm lactose intolerant. Can I still do this program? Lactose intolerance is even more common than gluten intolerance. It's easy to work around it because Burn the Fat, Feed the Muscle is so flexible. You don't have to eat dairy products if you don't want to.
Q: Do I have to take any supplements? No supplements are required. I don't sell supplements and never will. Most of them are a total waste of money. If you want to use supplements, that's your choice, but it's completely optional.
Q: I have medical issues (diabetes and a recent heart attack) - will your program work for me? Always check with your physician before starting an exercise and or diet program, especially when you have special clinical or medical considerations. The Burn The Fat program may not be appropriate for everyone. My staff and I are not medical professionals or registered dieticians. I am a fitness trainer, fitness writer and fat loss coach. The goal of this program is to help healthy people reach their fitness and body composition goals through nutrition, exercise and motivational techniques, not to cure health problems.
Q: Will this program work for vegetarians? Yes, although you may need some modifications based on what you do and don't eat. If you don't eat meat but you do eat dairy, eggs or fish, it's very easy to modify this program. If you're a strict vegan it will take a little more creativity and it would be up to you to come up with your own recipes and meal plans.
Q: Will this work for me in my country? I'm worried about not having the foods that are required YES! We have customers on the program in 152 countries. The program is super flexible - you are not limited to a small list of foods only available in some countries. You can adapt the program to work wherever you live.
Q: I already have your Burn the Fat, Feed the Muscle ebook. How do I enter your Burn the Fat Challenge body transformation contest? Our Burn the Fat Challenge body transformation contest runs twice a year - once in the summer (starts in May) and once in the winter (starts in November). We publicize the event heavily in all our public websites, blogs, newsletters and on twitter and facebook. If you're on our customer email list, you will get a private invitation to the contest. At contest-time, you can also contact us with your Burn the Fat proof of purchase (receipt, etc) to receive a contest invitation. "Contest Central" is located at the BurnTheFatInnerCircle.com members-only website.
Q: Is the book available in hard copy? Burn the Fat, Feed the Muscle is exclusively an Internet product available as a downloadable e-book in Adobe Acrobat PDF format. There is no hard copy and this is NOT available in bookstores. You can read this e-book on any desktop or laptop Mac or PC and it is also fully printable. The PDF ebook may be readable on other e-readers and mobile devices as well, as long as they are compatible with Adobe acrobat PDF format (some tablets like ipads for example, may requie a special app to read PDF ebooks).
Q: How can I be sure it's safe to order online from your website? The checkout page is on a secure server, we are a Verisign-trusted and Norton-secured website (verifying our identity, location and virus-free status) and we've been online with a reputation of uncompromisable integrity for over 10 years.
Q: How do I order the program? The fastest way to get the program is on the order page here: www.BurnTheFat.com/order.html or just click on the "add to cart" button below. You can start the download almost instantly after you order.