YES! I want to join the Burn The Fat Inner Circle for 6 months. Thanks for the 8-week trial period and 100% money back guarantee, too - that takes all the pressure off my decision. I understand that when I place my order, I will be immediately directed to the new member registration page, where I can choose my own user name and password, which I will use to log into the private members-only Inner Circle site, any time I please, 24 hours a day, 7 days a week. I understand that I will get instant access so I can get started ASAP!

Burn The Fat Inner Circle 6-Month Membership:
---
Wait, Would You Like to Add The Burn The Fat, Feed The Muscle E-book To Your Order?
Upgrade To The Burn The Fat Inner Circle 'Total Package'
And You Also Get the Acclaimed Best-Selling Fat loss Program
That Started a Fat Loss Revolution... Burn the Fat, Feed The Muscle

"Burn the Fat, Feed the Muscle" (BFFM) is a 340-page fat burning success manual in e-book format, jam-packed cover to cover with all the fat loss methods previously known by only by an elite group of top fitness models and bodybuilders.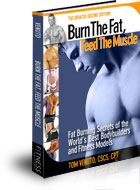 Burn The Fat, Feed The Muscle: Fat Burning Secrets of the World's Best Bodybuilders and Fitness Models

In 144 countries all around the world, tens of thousands of people call Burn The Fat, Feed The Muscle their "Fat Loss Bible" because in one place, you get all the information you'll ever need to help you melt away body fat permanently without losing muscle and without using risky and dangerous drugs or expensive and unnecessary supplements.

Here's a preview of what you'll find inside the e-book

The Top 12 foods you should eat all the time and the 12 foods most likely to turn into fat

How to crank up your metabolism and turn your body into a food-incinerating, fat-melting human blast furnace! Easy metabolism-boosting techniques revealed!

Secrets to losing the last 10 - 20 pounds... discover the #1 reason why most people can't drop the last bit of ab flab and how you can lose it with ease...and (if you want to), go even further and get hyper-ripped and rock-hard like a bodybuilder or fitness model

Which body type classification you are and how to eat right for your body type (if you're eating wrong for your body type you can forget about losing any body fat no matter how hard you train or how strictly you diet)

The #1 most effective way to burn body fat ever... If you could only make one change to your current diet program to MAXIMIZE your fat loss, this would be it!

What to do when you've tried everything and the stubborn fat still won't come off... this is one of the little-known tactics bodybuilders and fitness models use in the final weeks before competitions

A unique new spin on the old low carb diet that can increase your rate of fat loss to the maximum possible without muscle loss or metabolic downgrade

Not one, but FOUR weight training programs designed to fit your schedule and experience level - plus a "conservative" routine for "time-crunched" people who can't train as often as they'd like to - YOU pick the routine you want; its all mapped out for you day by day

The psychology of permanent fat loss... Goal setting and motivation tactics that program your subconscious mind for massive success...Follow this "secret mental training formula" and you'll be practically "hypnotized" into eating properly and working out consistently!

And that's just a tiny fraction of what you'll learn in this information-packed "bible" to a leaner, more muscular body.

You have the same no-risk, money-back offer on this all-time best-selling ebook as you do with all Burn The Fat products. Take a full 8 weeks to use these fat burning techniques. I guarantee you will be satisifed with the program and amazed with your results.

PLUS, with Burn the Fat, Feed the Muscle, You Also Get 4 FREE Bonus Reports!

When you order the Total package - membership and ebook - you also get the 4 bonus reports pictured below - FREE!


Burn The Fat Inner Circle Total Package:
"Before: 296 lbs And 45% Body Fat. After Burn The Fat, Feed The Muscle: 174 Lbs And 6.7% Body Fat!"
"Burn The Fat, Feed The Muscle (BFFM) was exactly what I needed to break through and permanently burn off my unwanted fat. I picked up the program during a weight loss plateau - exactly the point where I usually quit.

The mindset and goal creation exercises were exactly what I needed to get headed back in the right direction.

BFFM is a comprehensive text book of nutrition, training, and motivation all acting in synergy to produce results beyond what I ever dreamed possible. Thank you Tom!
- Brian Nordberg
YES! I want the Total package! I understand that with my order I will get the 6 month Burn The Fat Inner Circle membership AND the Burn The Fat, Feed The Muscle 340 page ebook in this special combined package deal. I also get the 4 bonus reports for FREE: (1) How to measure your body fat in the privacy of your own home, (2) The A food B Food Lecture: How to get good grades on your food choices, (3) Foods that Burn Fat!, and (4) Foods that Turn to fat!

---